Challenge Yourself in the Beautiful Outdoors!
Grab a friend or two and come play a round of disc golf on JBU's new Eagle Ridge Disc Golf Course! This beautiful 9-hole course offers challenging shots through wooded areas, with longer-range open shots, between the tennis courts and around soccer's Alumni Field. The course begins on the west side of the tennis courts, loops around the soccer field and ends up at hole 9 located on the northwest corner of the tennis courts. Located along scenic Sager Creek, Eagle Ridge Disc Golf Course is a great course to enjoy with friends and family throughout the year!
The course is open to the community and we would love your feedback. Discs are available for check out at the WLHC Front Desk for JBU faculty, staff, students and WLHC members only. Discs must be returned the same day as checked out.
Course Rules:
Use the paths where possible to reduce erosion. Help protect this area by not harming the vegetation.
A player may not break, bend or hold back any part of a tree or vegetation in order to make room for their throwing motion or their path to the basket. The rules require you to take the "least evasive" stance behind your disc.
JBU is an alcohol-free and tobacco-free campus. Alcohol consumption and smoking, including e-cigarettes, are prohibited.
Clean up after your pet and keep them leashed.
No motor vehicles on trails or in the course area.
JBU Campus Safety Officers patrol this area and can be reached at 479-215-5000.
For more details on disc golf rules, refer to the Professional Disc Golf Association or pdga.com.
Click on the map to the right to enlarge it or click here for a map of the Eagle Ridge Disc Golf Course.
If you have any questions or concerns, please contact the Walton Lifetime Health Complex at wlhc@jbu.edu.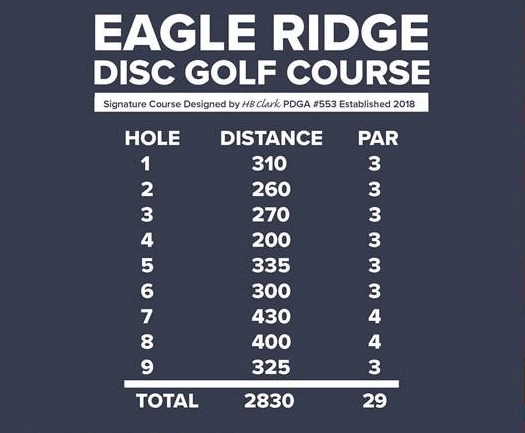 )}}