Alumni Awards & Recognition
JBU alumni are serving God and others in their chosen profession all over the world. Each year JBU recognizes exemplary alumni at Homecoming.
2022 Award Winners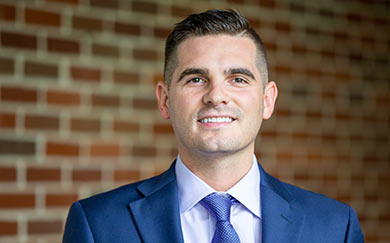 Gunnar Shafer '14 — Young Eagle Award
As an engineering student at JBU in 2013, Gunnar Shafer worked on a team research project for a solar battery-powered, off-grid farming system. Shaffer developed the vertical farming towers used in the project, eventually creating YouTube videos of the making of the towers that have garnered more than one million views. After earning an M.Sc. in renewable energy from Universität Oldenburg, Germany, and completing his master's thesis at the United Nations in Geneva, Switzerland, Gunnar kept thinking about the commercial possibilities for the towers.
In 2017, he launched Agrowponics, a vertical-farming manufacturing company, with Thomas Burns. A seventh-generation farmer, Shaffer combines his solid agricultural and engineering backgrounds to serve as the CEO. He also works full-time at Southwest Power Pool as a market forensics engineer.
Dr. Dan Yoder '94 — Career Achievement Award
Dr. Dan Yoder earned a bachelor's degree in biology and chemistry from JBU and obtained his medical degree from Duke Medical School. Yoder then completed his ophthalmology residency and retina fellowship at the prestigious Bascom Palmer Eye Institute in Miami, Florida, consistently ranked as the No.1 training program in the country. Now a board-certified vitreoretinal specialist, Yoder practices comprehensive ophthalmology. He has fellowship training in diseases of the macula, retina and vitreous. In addition to performing the latest in small-incision, no-stitch, no-shot cataract surgery, Yoder has extensive experience managing macular degeneration, diabetes-related eye issues, retinal vein occlusions and hypertension related to the eye. Yoder is a diplomat of the American Board of Ophthalmology. He and his wife, Tonya (Wozniuk) '94, have three children. He is active in his church and multiple community organizations and enjoys various sports and outdoor activities.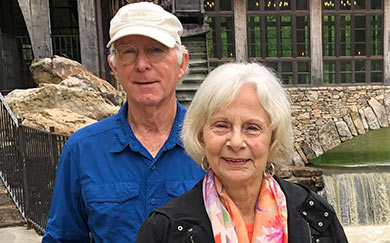 Martha Munce '63 — Christian Ministry Award
After graduation, Martha "Marti" (Ettinger) Munce '63 spent two years teaching in her hometown of St. Louis, Missouri, before she entered Moody Bible Institute for a year of additional Bible study. Having been introduced to Africa Inland Mission (AIM) by a missionary kid at JBU, Marti signed up with the organization. Marti was assigned to AIM's literature department when she arrived in Kenya in 1966. In 1972, she married her husband, Bob, and they focused on spreading Christian literature throughout East Africa via a central distribution center that fed eight to 10 bookstores. They returned to the U.S. in 1978 and established Munce Publications. In 1991, Munce Marketing Group was established to help independently owned Christian bookstores fulfill their marketing needs. Today, the Munce Group serves over 200 member retailers across the US. Munce also serves as vice-president of the board for the Christian Retailing Association.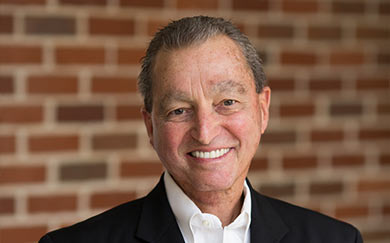 Gary Oliver — Christian Service Award
Gary Oliver, Ph.D., is a husband, father, psychologist, author, professor of psychology and practical theology, and
executive director emeritus of The Center for Healthy Relationships at JBU. He holds a Master of Divinity from Talbot Theological Seminary, a Master of Theology from Fuller Theological Seminary and a master's and a doctorate in psychology from the University of Nebraska in Lincoln.
Oliver has more than 40 years of experience in individual, premarital, marital and family counseling. For the past 30 years, he has had an extensive teaching ministry nationwide. Oliver has founded, developed and directed several counseling centers. He serves on the executive board and the national speaking team of the American Association of Christian Counselors.
Bob Sheridan '54 — Outstanding Alumnus
Bob Sheridan came to JBU from the Detroit area in 1950 to major in building construction engineering. He met his
wife, Von, when the JBU academy in Sulphur Springs, where she taught, moved to Siloam Springs. They married in 1952 and had two children.
After completing his degree in 1954, the Sheridans moved back to Detroit, where he worked for some of the larger construction companies in the area. He also worked for Ford Motor Company supervising the construction of dealerships in Canada. When he was 45, he started his own construction and real estate development company. Bob
and his wife have been very generous to students at JBU, supporting annual and endowed scholarships, the construction management department, the visual arts department and the townhouse renovation project. He still attends JBU homecoming as his health allows, actively stays in contact with many alumni and has a great love for
JBU students.
Award Criteria
Outstanding Alumnus(a) of the Year
Graduated from JBU at least 10 years prior
Reflect the Christian standards and ideals of JBU in public and private life
Attained outstanding occupational achievement, or have a record of accomplishments that are impressive or noteworthy
Demonstrates leadership in Christian and secular communities
Demonstrates loyalty to and interest in JBU
Is a loyal supporter of JBU
Available to attend Homecoming to receive the award
---
Career Achievement Award (Head)
Graduated from JBU at least 20 years prior
Displays leadership, responsibility, and expertise in his/her profession
Personal lifestyle exhibits exemplary character
Has achieved considerable feats in his/her field of expertise or profession
Is a loyal supporter of JBU
Available to attend Homecoming to receive the award
---
Christian Ministry Award (Heart)
Currently in or has been in full-time Christian ministry
Obtained an undergraduate or graduate degree from JBU
Supports and upholds the JBU principles
Reflects obedience and dedication to Christ in every facet life
Exhibits integrity, spiritual maturity, stature
If the person is a missionary, they do not have to be present to accept the award, but a family member should be there in the recipient's place
When the achievement of a married couple is so integrated and dependent upon another's service, they will receive a combined award. They may also be considered individually, each receiving their own award.
---
Christian Service Award (Hand)
Longevity of service and type of contribution should be considered
May NOT have obtained a degree from JBU, however, must have served JBU in some manner (faculty or staff)
Life and conduct reflects Christian character based on Biblical principles
When the achievement of a married couple is so integrated and dependent upon another's service, they will receive a combined award. They may also be considered individually, each receiving their own award.
The recipient(s) must be present to accept the award if still living, otherwise, a family member may accept the award.
---
Young Eagle Award
Graduated from JBU 10 calendar years or less, prior to the Fall Homecoming date.
Professional and personal development and achievement
University and community service
---
Nominate an Individual
Nominate someone for alumni recognition using the form below. For more information on the awards, see the criteria.
If your nominee doesn't receive an award this year, they will be considered each year thereafter, so you only have to submit their name once. There is no guarantee, however, that your nomination will receive an award.
)}}