Opportunities for Business Students
As a student in the College of Business at John Brown University, you will have many opportunities to get involved and/or take advantage of the many benefits offered to students. Whether through networking with faculty, guest speakers and fellow students, participating in study abroad trips, joining clubs, or completing an internship, your involvement will enhance your education.
On-campus undergraduate students
Get involved in ENACTUS and develop outreach projects that improve the quality of life for people locally and around the globe
Participate in the annual Governor's Cup Competition
Travel abroad and earn course credit in another country
Be involved in a business club
Develop marketing plans for actual clients
Gain real-world experience by interning at a local Fortune 500 company
Graduate students
Build a professional network
Use networking and education to achieve a career change
Participate in a study abroad trip
Build a career around a study abroad program
Experience a uniquely Christian worldview
Learn from faculty who are both practitioners and academicians
Online undergraduate students
Be part of a large JBU alumni network
Build a professional network
Take advantage of a schedule designed for working adults
Learn from faculty that combine theories and textbooks with "real world" experience
JBU Enactus
ENACTUS (Entrepreneurship in Action) is an international non-profit organization that works with leaders in business and higher education to mobilize university students to make a difference in their communities while developing the skills needed to become socially responsible business leaders. Participating students form teams on their university campuses and apply business concepts to develop outreach projects that improve the quality of life and standard of living for people in need. They then present those business concepts at competitions on the regional, national and even world levels. JBU's ENACTUS team placed first at the national competition in 2017 and won $10,000.
JBU students are building homes for refugees in Uganda, providing communities in Guatemala with access to clean water, creating jobs in document destruction for adults with disabilities, and empowering women in Guatemala with business skills to grow their jelly business. For photos and more information, check out our Facebook and Instagram.
Learn more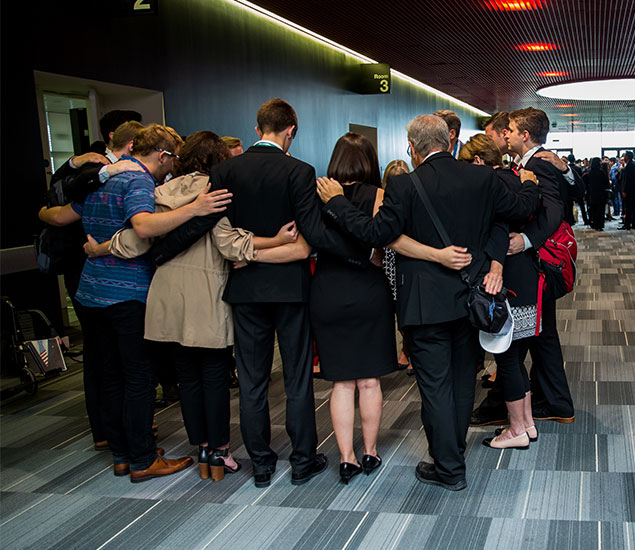 Governor's Cup Business Plan Competition
Your first three years in the College of Business at JBU all come together for your senior year during the capstone business class Strategic Management. In this course, students work in teams to create a business and write a business plan detailing the first five years of operation. At the end of the semester, each team sends their business plan to a competition called the Donald W. Reynolds Governor's Cup Competition.
Twelve teams are selected from all of the entries, and they travel to Little Rock, Arkansas, to present their business plan and compete for cash prizes. Not only are the prizes a great incentive, but investors and experienced business people judge the presentations and plans and provide critical and useful feedback.
The top three from this Arkansas competition win prizes, and the top two teams travel to Las Vegas, Nevada, to compete against the top two teams from Oklahoma and Nevada and have another opportunity to win more cash prizes and interact with investors and business people.
JBU teams have won over $100,000 in prize money from the Governor's Cup Competition.
JBU business clubs
American Enterprise Institute
JBU's AEI organization is a student chapter of the national organization which provides students with the ideas, research and network of AEI. AEI is dedicated to preserving and strengthening the foundations of a free society through independent thinking, open debate, and reasoned argument. Members share AEI's commitment to fostering a healthy competition of ideas, defending human dignity, expanding human potential and building a freer and safer world.
---
American Marketing Association
The American Marketing Association (AMA) student chapter of the national American Marketing Association organization works to connect JBU business students to marketing professionals and provide opportunities for growth in the field. The chapter hosts events to highlight local professionals, companies and trends; competes in American Marketing Association National Competitions; and, provides tools and resources for students.
JBU's AMA chapter is sponsored by professors and professionals.
---
Delta Mu Delta
This organization is a business honor society that recognizes and encourages academic excellence in students. Students who are in the top 20% GPA of the junior and senior classes are eligible for membership.
---
Enactus
As described above, Enactus is an international non-profit organization that develops impactful projects that benefit the less privileged and encourages others to replicate.
---
John Brown Investment Group
Through this organization, students collaborate and research interesting investment opportunities which increase the probability of achieving positive returns on assets under management in any given year.
The club's purpose is to provide JBU business students with real-world experience to learn more about the stock market and engage passionate JBU Business alumni as advisers to current JBU undergraduate students. Furthermore, the group seeks to equip JBU students with Christian values to make an impact on the world.
---
Off Topic
This group is dedicated to providing support and resources for aspiring entrepreneurs, sparking conversations about the creative potential of individuals on campus. We don't have a number of participants for this group.
---
SCOB Council
The SCOB Council is comprised of business students who represent fellow students to JBU staff and faculty with the purpose of unifying students and organizations to best accomplish student goals.
---
Women in Business
This organization meets to grow in community and learn from experienced female professionals. The group believes it is important to discuss hard things together to best prepare for working in the future.
---
)}}