The Early Commit Track
On-Campus Undergraduate Admissions
What is the Early Commit Track?
Why commit early?
You'll enjoy exclusive benefits:
Priority housing placement (February vs. May)

Early class registration (April vs. June)

Early roommate assignment (February vs. May)

Invitations to exclusive events
Wrap up your college search early and enjoy peace of mind.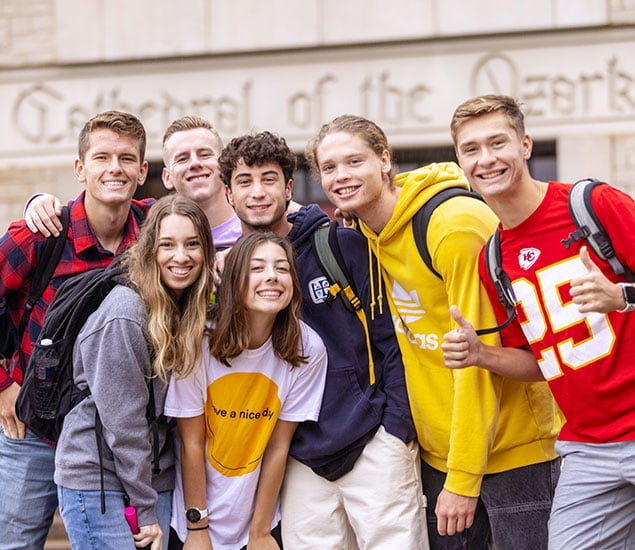 How do I commit early?
Apply and be admitted to JBU

Visit JBU

Visiting is vital to making a confident college decision. Certain exceptions may be granted due to extenuating circumstances.

File the FAFSA

We strongly recommend that you file the FAFSA if you are eligible. Without it, JBU cannot offer you any need-based aid, including work-study, or loans. Some state scholarships require the FAFSA as well. However, if you do not intend to file (not recommended), please inform your admissions counselor so that they can move the financial aid process forward.

Review and accept your financial aid offer

You will be notified when your financial aid offer is ready. Use your applicant portal to view and accept your offer.

Submit your enrollment deposit

The date you deposit sets your class registration priority, so the earlier, the better. In addition to reserving your spot in the incoming class, it also covers your orientation fee.

Commit to JBU!

Once you complete steps 1–5, you are eligible to make an official commitment to JBU and lock in the perks of the Early Commit Track! Once you commit to JBU, you are expected to withdraw all other college applications and refrain from submitting new applications.
Is financial aid affected?
No, your participation in the Early Commit Track does not affect the amount of financial aid offered to you.
However, keep in mind that if you are eligible to compete for one of JBU's competitive scholarships, you'll want to do so in the fall so that you have your complete financial aid offer in hand by the Early Commit Track deadline in January.
Similarly, if you are planning to apply for an art, music or theatre scholarship, you'll want to have turned in your portfolio or auditioned by December 1. This timeline will enable you to find out about those scholarships before the Early Commit Track deadline.
What deadlines should I be aware of?
| Date | Deadline |
| --- | --- |
| Nov. 1 | Deadline to complete your application file for consideration for an invitation to the Fall Scholarship Competition |
| Dec. 1 | Deadline to apply and be eligible to participate in the Early Commit Track |
| Dec. 1* | Deadline to file the FAFSA and receive a financial aid offer ahead of the Early Commit deadline |
| Jan. 15 | Deadline to complete the Early Commit process and sign the Early Commit form |
*If you are interested in the Early Commit Track and haven't submitted your FAFSA as of December 1, contact your admissions counselor to discuss your situation.
)}}