Graduate Programs
The future you starts at JBU
With a trusted, accredited master's program built on the idea that learning happens in real life, you'll be ready to tackle new challenges or take a different direction in your career.
be inspired.
It's more than a master's degree.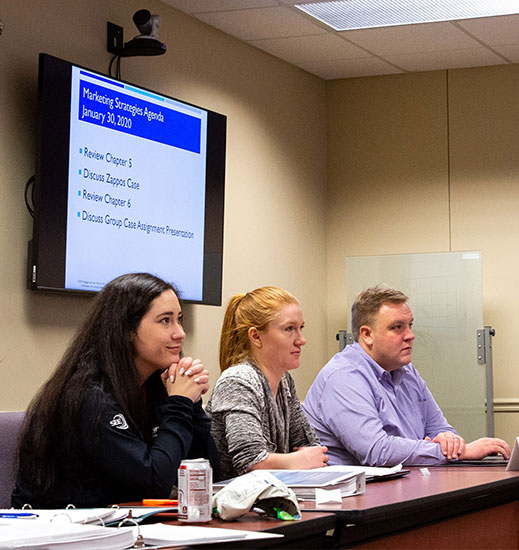 Degree programs
JBU offers flexible graduate program options so you can earn your master's degree while maintaining your personal and professional priorities.
Learn More
Ranked #1
The Wall Street Journal: #1 college in Arkansas
U.S. News and World Reports: Top-ranked southern regional university since 2016
College Consensus: Best Online Colleges & Universities
Employers know when they see "John Brown University" on your resume, they'll be getting top talent.
Explore our graduate programs
Real-world application
Whether you're a business student developing a strategic plan or a counseling student conducting live therapy, you'll have the opportunity to apply what you're learning through hands-on experiences.
Explore our graduate programs
Engaged & experienced faculty
JBU's expert faculty will bring your coursework to life with extensive field experience and also teach you how to incorporate your faith into your work. They are invested in your success and will be a valuable resource during your time at JBU and beyond.
See what our alumni have to say...
Program overviews
Get a glimpse into a few of the graduate degree programs offered by JBU.
MBA - Design Thinking & Innovation
MBA Organizational Leadership
Be
bold.
disciplined.
committed.
Frequently asked questions
Is graduate student housing available?
JBU has limited housing available for graduate students, including apartments on our Siloam Springs campus or nearby housing options. Please note that most classes are online or in Rogers or Little Rock. For information on Siloam Springs housing, please email ResidenceLife@jbu.edu.
---
Where do I find student resources?
Once admitted to JBU, students will access Eaglenet, where most student resource information can be found. Other valuable links include:
---
Where are your campus locations
JBU has three campus locations:
Main Campus
2000 W. University
Siloam Springs, AR 72761
479-524-9500
Rogers Center
2807 Ajax Avenue, Suite 200
Rogers, AR 72758
1-800-528-4723
Counseling Education Center at Little Rock
10816 Executive Center Dr #100
Little Rock, AR 72211
501-771-9000
---
How do I purchase textbooks?
---
What are the requirements for graduation?
To be eligible for graduation from John Brown University, you must complete a program of study that meets the academic policies set by the Office of Graduate Studies.
The following graduation requirements apply to all master's degree programs:
Satisfactorily complete requirements for the specific graduate program for which you are enrolled within the time designated in the catalog, following acceptance as a graduate student. In the case of extenuating circumstances, a petition for an extension of time will be considered by the department.
Maintain a cumulative grade point average of 3.0 or higher. If your cumulative grade point average falls below a 3.0, the department will review your status and may make appropriate recommendations for continuance in your degree program or remove you from that program.
Maintain professional and personal standards as outlined in the Graduate Student Guide. Failure to maintain these standards may result in removal from the degree program.
Submit an Application for Graduation.
Pay the required $35 graduation fee to the Business Office.
NOTE: Particular degree programs may have additional requirements. You are responsible for determining and meeting all academic and graduation requirements for the degree you seek.
---
)}}