Start Your Journey at JBU
Learn more about enrolling in JBU's online undergraduate program.
Online Undergraduate Admissions
Enjoy a seamless admissions experience
Our helpful admissions counselors have your best interests in mind. Whether you're a new college student or are working on finishing your degree, we are here to help you determine a degree plan that fits your goals. We'll answer any questions you have about transferring credits, choosing your major, online classes, etc.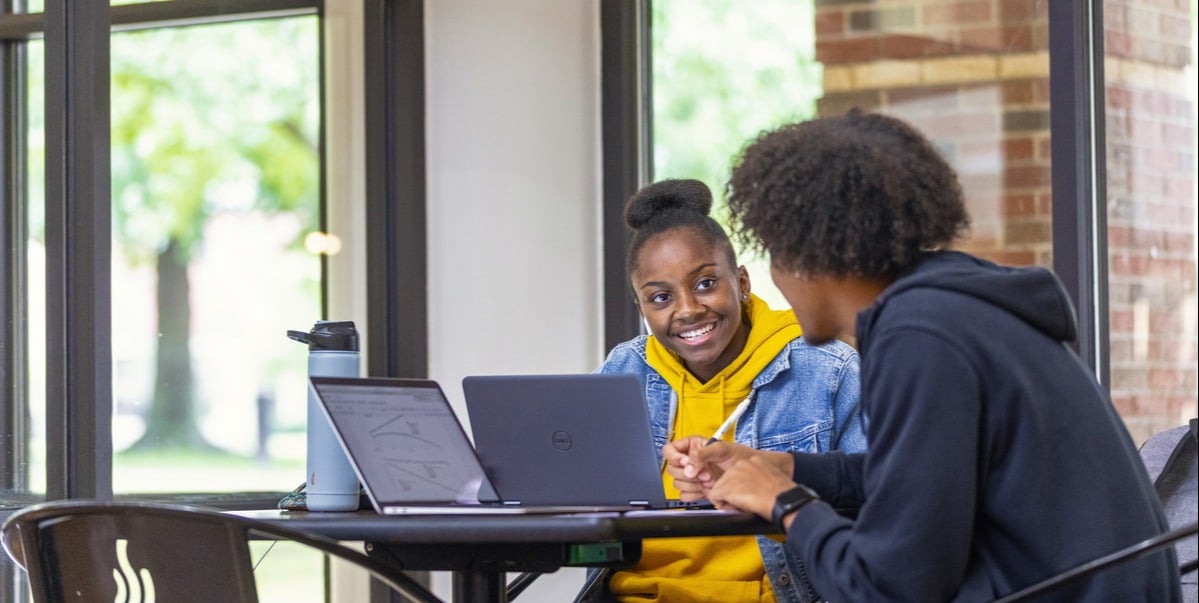 Important student information
Non-degree students
---
Transferring credit
---
Non-traditional credit options
---
Community college transfers
---
Requesting transcripts
---
Military & veterans admissions
---
How to apply
First-time freshman
To be admitted with regular freshman status, an applicant must have a degree-bearing high school transcript with a GPA of 2.5 or above or GED and one of the following qualifying entrance exam scores:
Composite score of 20 or higher on the ACT
Score of 1020 or higher on the SAT (950 for test prior to March 1, 2016)
Score of 66 or higher on the CLT
If you haven't taken an entrance exam, please contact us about your options or learn about our test-optional admissions process
---
Transfer students
To be admitted as a transfer student, an applicant must have been enrolled in college for at least one semester following high school graduation and meet one of the following criteria:
College transcript(s) showing 6 to 24 transferable credit hours with a GPA of 2.5 or above
College transcript(s) showing 25 to 84 transferable credit hours with a GPA of 2.0 or above
Any transfer student with fewer than 6 transferable hours see standard first-time freshman admission requirements.
For more information, please see the Transfer Admissions page.
---
Online undergraduate admissions process
If you are a first-time freshman applicant, request an official high school transcript to be sent to John Brown University as well as official entrance exam scores.
If applying as a transfer student, request official transcripts from all universities or colleges attended (even if you did not receive credit).

Transcripts should be sent electronically to outranscripts@jbu.edu. You may use JBU's Transcript Request Form or visit our transcript request links for assistance. If your university or institution only mails transcripts, it must be mailed from the university or institution directly to JBU's Office of the Registrar, 2000 W. University Street, Siloam Springs, AR 72761.

2. Schedule a call with your admissions counselor
3. File your FAFSA
---
Non-Discrimination Policy

JBU affirms the biblical truth that all people are created in the image of God and should be treated with dignity and respect. In keeping with that commitment, JBU aspires to be an authentically diverse community where people can flourish and grow in keeping with God's design for their lives. In that context, JBU does not unlawfully discriminate based on race, color, national or ethnic origin, sex, age, disability, marital status, military status, or age in the administration of its educational policies, admissions, financial aid, employment, educational programs, or activities. JBU is committed to preserving human dignity and is particularly concerned about harassment, whether sexual, racial, ethnic, or any other type.

As a Christ-centered, religious institution, JBU retains the right to make employment, admission, and educational decisions based on an individual's religious beliefs and conduct consistent with the JBU's Statement of Faith, Employee Expectations, Student Community Covenant, and other university policies. In general, JBU opposes discrimination, harassment and retaliation as stated in this Policy, but it is also exempt from certain state and federal anti-discrimination laws due to its status as a religious non-profit corporation and its constitutional right to act in accordance with its religious beliefs. Nothing in this policy is intended, nor should it be construed, to waive JBU's rights to those exemptions or legal defenses, or of JBU's right to make and enforce policies in furtherance of its religious beliefs.
The future you starts at JBU.
Equip yourself for a successful career and a life of purpose.
)}}