Music & Theatre Performance Opportunities
Chapel bands
Four JBU Chapel Bands are responsible for leading the JBU community in corporate worship three times per week. These bands consist of students of all majors and are primarily led by Worship Arts Majors and Minors. While they may vary in style, JBU Chapel Bands are indefinitely committed to theological integrity, creativity, servant leadership and excellence.
Auditions for JBU Chapel Bands happen at the beginning of each Fall Semester, and each of the four bands play together for the entire academic year. Specific time commitments and audition requirements for JBU Chapel Bands can be found here.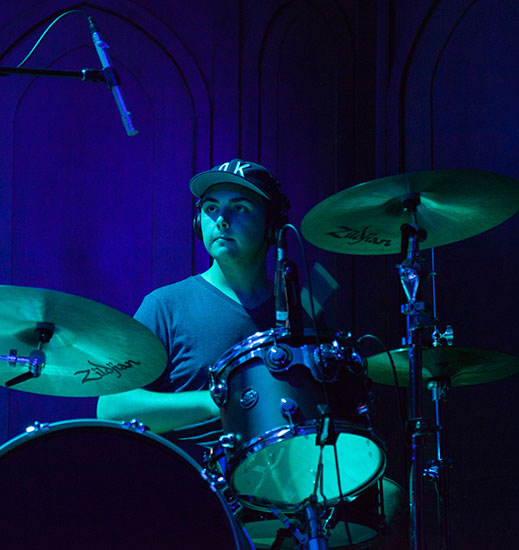 Cathedral Choir
The Cathedral Choir is John Brown University's most prestigious music ensemble. The Choir's reputation for excellence has led to performance tours all over the U.S. and in Northern Ireland.
In addition to annual tours, the Cathedral Choir is featured every December in the magnificent Christmas Candlelight Service, JBU's signature holiday performance event.
The Cathedral Choir is an audition-only ensemble, open to students of all majors across campus. The Choir rehearses four days a week (MWF and Thurs) in the Berry Performing Arts Center choral rehearsal hall.
Listen to the Cathedral Choir perform Garden of the Shepherd here.
Schedule an audition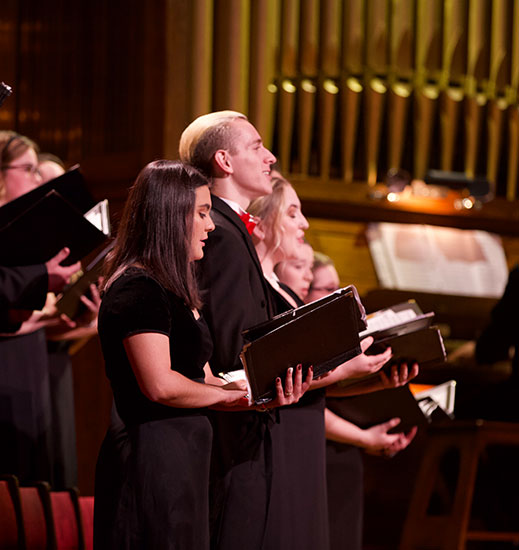 Instrumental ensembles
Our instrumental ensembles generally perform two concerts each year. The concert in the fall is held following Thanksgiving break, and members may also have the opportunity to participate in the Christmas Candlelight Service. Each spring the ensembles perform in a concert, frequently in combination with other music ensembles.
The instrumental ensembles are scheduled to meet two hours each week and are audition-only groups. Instrumentation includes string, woodwind, brass, and percussion instruments. Semester stipends are available for qualifying students. Auditions are held during orientation at the beginning of the semester.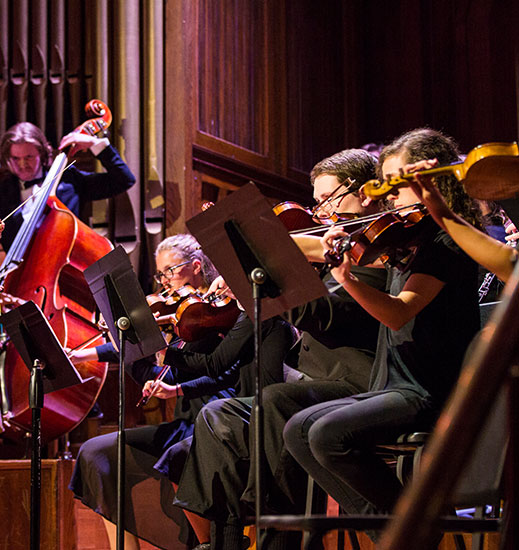 University Chorus
University Chorus is a SATB chorus designed for students that enjoy singing a variety of music from different historical periods and genres of choral literature. This choir provides a supportive, fun environment for learning, while also being committed to musical excellence. Above all, University Chorus serves as an opportunity for students to worship together in a choral setting. This choir is featured each Christmas season in the annual Candlelight Service, which is the most celebrated performance event in the JBU Music Department. The choir also performs an annual spring concert. Members are required to audition at the beginning of each semester. The chorus rehearses twice a week.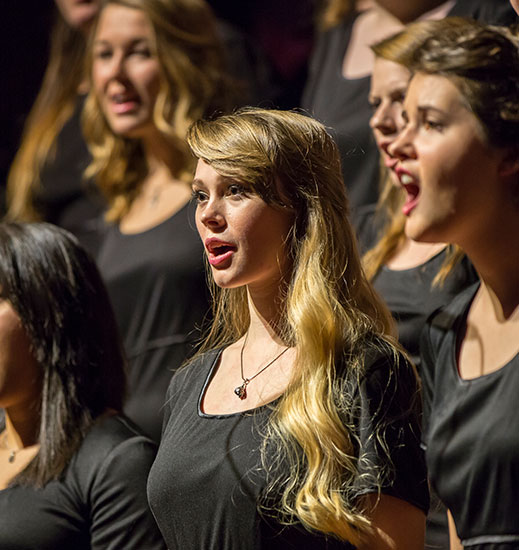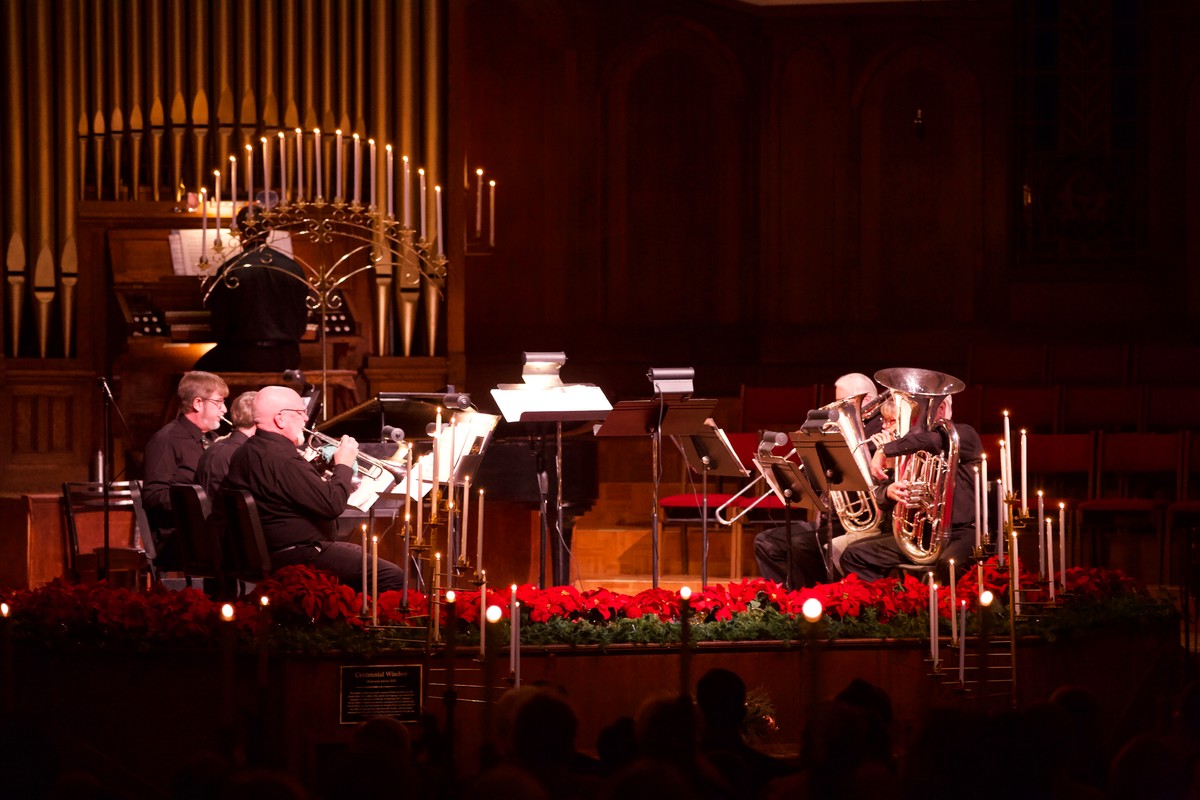 Jazz ensemble
An ensemble designed to give woodwind, brass, and percussion instrumentalists performance opportunities in jazz music. The group performs at home basketball games and other venues. Two hours of rehearsal each week in addition to performances. Auditions are required and are held at the beginning of the semester. Semester stipends are available for qualifying students.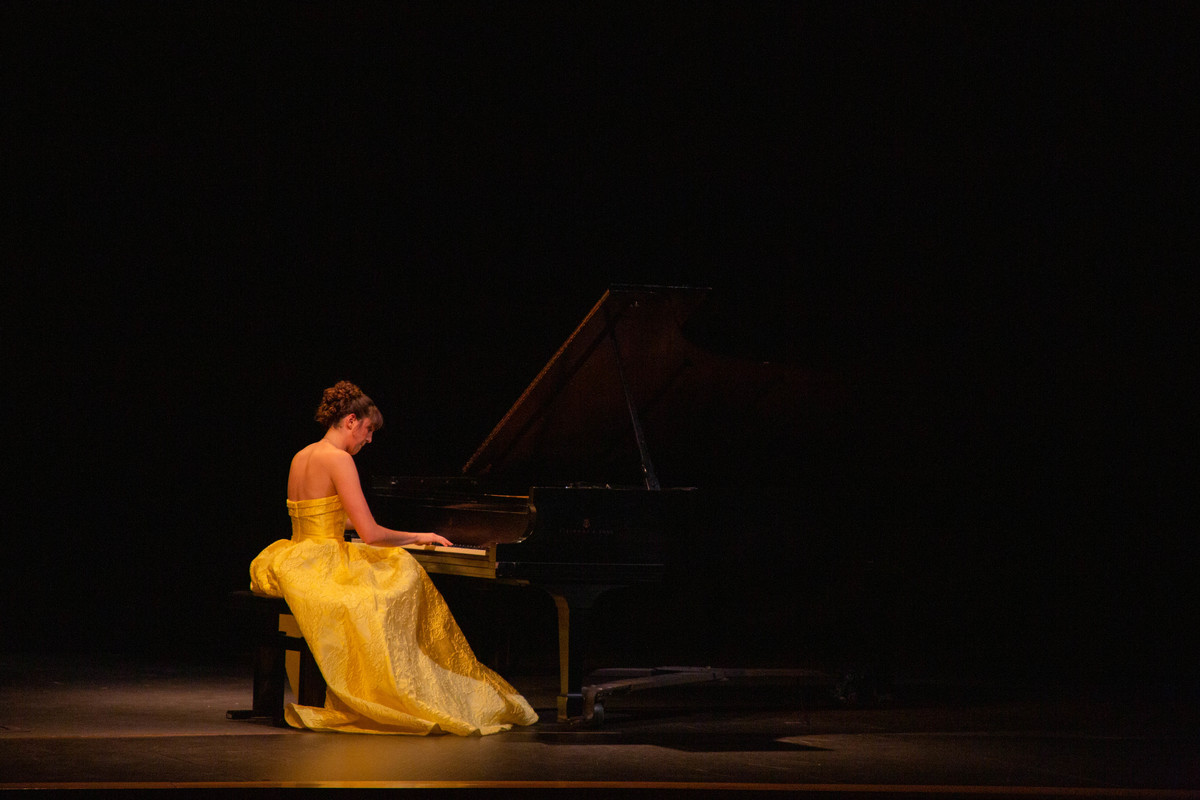 Recitals
Students are given the opportunity to showcase their talents in solo recitals during their Junior and Senior years. These recitals from our talented young vocalists, pianists and instrumentalists represent the fruit of diligent study and hard work, and are always anticipated events.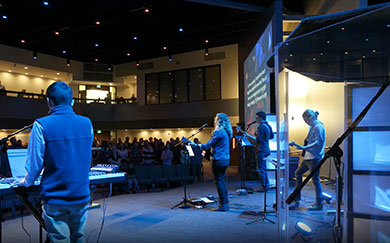 The Red Steps
The Red Steps is a band committed to taking the musical worship of JBU out to people, coffee shops, schools, and churches around the country. This band communicates the mission and ministry of JBU through testimony, music and informal conversation, and, in doing so, recruits more students to find their place in the JBU story.
The Red Steps is a band of four to six students chosen through highly competitive auditions. The band is led by the director of admissions, Hannah Bradford, and travels through the academic school year.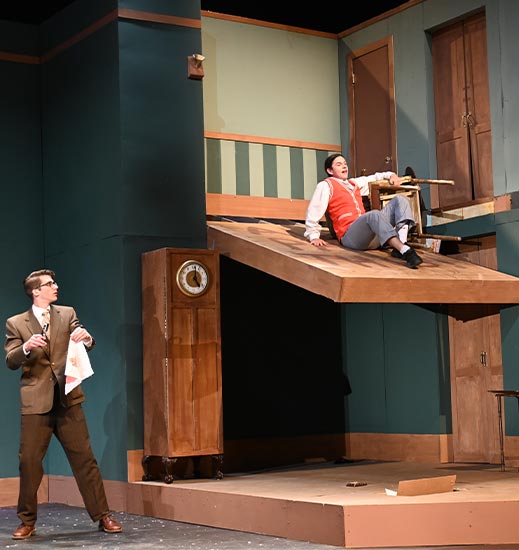 Theatre performance
The Department of Music & Theatre produces four faculty-directed productions per year—two plays and two musicals. In addition, student-directed projects are presented upon approval. All are open to JBU students from any major.
Learn more