Alumni Awards & Recognition
JBU alumni are serving God and others in their chosen profession all over the world. Each year JBU recognizes exemplary alumni at Homecoming.
2020 Award Winners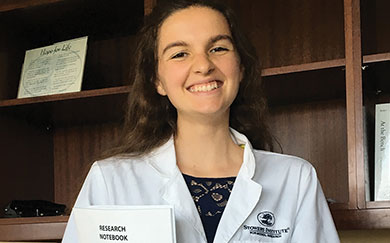 Outstanding Senior Award
The recipient of the Outstanding Senior Award for 2020 is Ms. Olivia Lawler - a Biology Major from Olathe, KS. She has excelled as a student and leader both inside and outside the classroom. During her time at JBU she has served as a peer mentor, helping incoming biology students acclimate to labs, test prep and group activities within the biology department. She is an active leader in her local church, serving as a Bible study and small group leader, while also holding the Vice President role in the Honors Scholars Program. Her research has covered both Major Depressive Disorder as well as the pathology of Parkinson's Disease.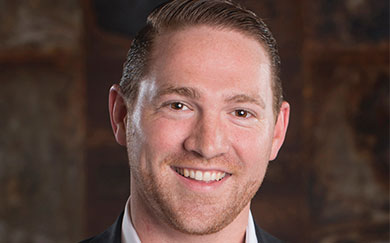 The Young Eagle Award
Tyler Dees is the recipient of the Young Eagle Award for 2020. Tyler holds both undergraduate and graduate degrees from JBU, having graduated in 2008, 2012 and 2013. As an undergraduate student he was a member of the 2005 men's National Championship basketball team, playing at pivotal role on the team from 2004-2008. Since completing his degrees he has gone on to achieve great success, being named by Talk Business & Politics to their 40 under 40 list in 2019. He is the Director of Business Development, and National Sales Accounts for Simmons foods. He leads the Walmart and Sam's Club team for Simmons, selling over $200 million in retail products annually.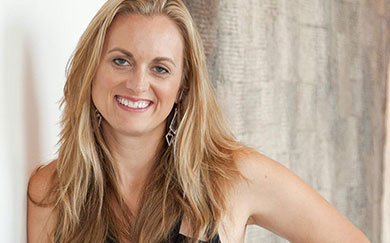 Career Achievement Award
Ms. Shawna Baker earned a bachelor's degree in Biology from JBU in 1999, cum laude. She completed a Master of Laws degree from Columbia Law School, NYU Law School and the University of Tulsa College of Law. At Columbia, she was a Harlan Fiske Stone Scholar and wrote for the Journal of Gender and Law. While at the University of Tulsa, she also completed an M.S. in Biological Sciences. She has 18 years of legal experience in various areas of law and has served as a trustee of a charitable organization and an assistant professor at the Florida Coastal School of Law. She served on the Cherokee Nation Gaming Commission and was recently appointed and sworn in as a Justice on the Cherokee Nation Supreme Court, becoming only the third woman to hold this position.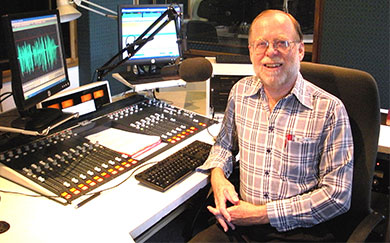 Christian Ministry Award
Paul Van Egdom was a student at JBU from 1966-69 and graduated with a degree in Radio Production. Following his time at JBU, he completed a degree in Missions from Moody Bible Institute, and then worked at a radio station before leaving for Africa in 1970. He produced radio and TV programs and set up a recording studio in Zambia, moved to Zimbabwe, where he was the 'resident priest' for the Zimbabwe Broadcasting Corporation's Radio 3 national network for 21 years. He had a program on ZBC's Radio 1 national network for 20½ years. From there Paul served at Trans World Radio's regional office in South Africa from 2004 as a presenter, program producer, editor, media trainer, and LinguaDMS (software) regional administrator. Since 2019 he has served as TWR's Global Training Consultant.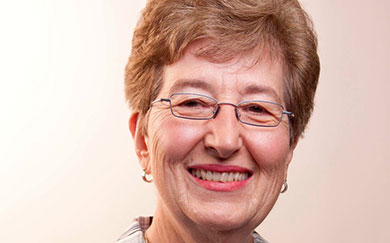 The Christian Service Award
Dr. Sandra VanThiel is not a JBU alumnus, but served in a variety of roles at the University from 1974 until her retirement in 2012. During that time she was the Assistant Coordinator of Counseling and Student Development before joining the faculty as a Professor of Teacher Education and ultimately chairing the Division of Teacher Education from 1999-2012. Along with her service at JBU, our award recipient has been very active in her local church; serving as an elder for 6 years as well as leading a Bible Study, singing in the choir, serving on the worship committee and on the search committee for a new pastor. She was also a long-time friend and primary caregiver to Dr. Ida Adolphson.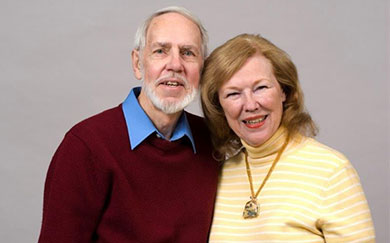 Outstanding Alumnus Award
David and Bernie Teague met while students at JBU, but didn't get married until six years later. Immediately after graduating from JBU, David was drafted into service for the Vietnam War and used his degree to become an officer in the Navy Seabees. Following his service, he earned a master's degree in engineering and became an engineering consultant in Kansas City, eventually working for the City of Kansas City Missouri's Public Works Dept. He retired in 2008 after overseeing projects such as the city sewer system and a nuclear power plant. His most prized project was coordinating the planning of a dental clinic in Cantel, Guatemala where he also helped to introduce efficient wood-burning cook stoves to the area.
After graduating from JBU, Bernadine worked for the Billy Graham Crusade in Kansas City and San Antonio, as well as working for a church in Denver, before becoming a stay-at-home mom and raising their two kids. They continue to remain busy and faithful in their local church, serving in a variety of capacities including on the worship team.
Award Criteria
Outstanding Alumnus(a) of the Year
Graduated from JBU at least 10 years prior
Reflect the Christian standards and ideals of JBU in public and private life
Attained outstanding occupational achievement, or have a record of accomplishments that are impressive or noteworthy
Demonstrates leadership in Christian and secular communities
Demonstrates loyalty to and interest in JBU
Is a loyal supporter of JBU
Available to attend Homecoming to receive the award
---
Career Achievement Award (Head)
Graduated from JBU at least 20 years prior
Displays leadership, responsibility, and expertise in his/her profession
Personal lifestyle exhibits exemplary character
Has achieved considerable feats in his/her field of expertise or profession
Is a loyal supporter of JBU
Available to attend Homecoming to receive the award
---
Christian Ministry Award (Heart)
Currently in or has been in full-time Christian ministry
Obtained an undergraduate or graduate degree from JBU
Supports and upholds the JBU principles
Reflects obedience and dedication to Christ in every facet life
Exhibits integrity, spiritual maturity, stature
If the person is a missionary, they do not have to be present to accept the award, but a family member should be there in the recipient's place
When the achievement of a married couple is so integrated and dependent upon another's service, they will receive a combined award. They may also be considered individually, each receiving their own award.
---
Christian Service Award (Hand)
Longevity of service and type of contribution should be considered
May NOT have obtained a degree from JBU, however, must have served JBU in some manner (faculty or staff)
Life and conduct reflects Christian character based on Biblical principles
When the achievement of a married couple is so integrated and dependent upon another's service, they will receive a combined award. They may also be considered individually, each receiving their own award.
The recipient(s) must be present to accept the award if still living, otherwise, a family member may accept the award.
---
Young Eagle Award
Graduated from JBU 10 calendar years or less, prior to the Fall Homecoming date.
Professional and personal development and achievement
University and community service
---
Outstanding Senior Award
A current senior and alumnus(a), nominated by faculty and staff
Exemplary character, displaying responsibility, dependability and a caring attitude
Given his/her time to the JBU community
Exhibits strong and active personal faith in God
---
Nominate an Individual
Nominate someone for alumni recognition using the form below. For more information on the awards, see the criteria.
If your nominee doesn't receive an award this year, they will be considered each year thereafter, so you only have to submit their name once. There is no guarantee, however, that your nomination will receive an award.
)}}