On-Campus Undergraduate
Next steps for admitted students
Congratulations on your admission!
We're so excited to welcome you into the JBU community! In the meantime, you need to complete some important steps like confirming your enrollment with a deposit, accepting your financial aid offer, completing pre-registration and more. If you need help or have questions, your admissions counselor would love to connect with you.
Connect with your classmates and the JBU community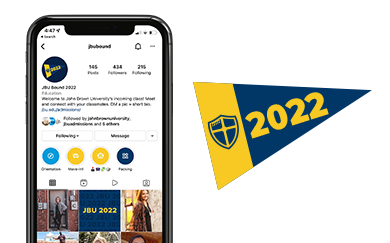 Connect with your future classmates and keep up with exclusive content like interviews, tips, live Q&A and more. DM a pic and a short bio to be featured.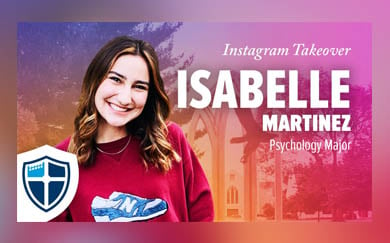 Get an authentic look at what it's really like to be a JBU student. Originally posted to our Instagram Story, you can conveniently browse all of them on YouTube.
Confirm your enrollment
Submit your enrollment deposit

Year-round

A deposit is a relatively small sum of money that officially holds your spot in the incoming class. If you're planning to live on campus, it also reserves a room for you.

If you're an international student, your process is a little different. If you're ready to commit to JBU, connect with the international student admissions counselor to discuss your deposit.

Activate your Eaglenet account

Year-round

Activating your Eaglenet account will enable you to review your financial aid offer, plan your courses and more. Look for the account activation checklist item in your applicant portal.

Accept your financial aid offer

October–August

After you receive and review your financial aid offer, you'll need to accept it. To review and accept your offer, log in to your applicant portal.
International students
Additional steps are involved in confirming your enrollment. Learn more about the international student admission process and applying for a visa.
Prepare for class registration
Submit final transcripts

After graduation

After you graduate high school, request that an official transcript with your graduation date be sent to JBU.

If you're a transfer student, request that an official transcript be sent once your most recent grades are posted.

Submit proof of alternative credit

Year-round

If you've taken AP, CLEP, or IB exams, be sure to send official reports to JBU so that we can consider them for credit!

Take math and English placement tests (if you applied without test scores)

May–August

In order to place you in appropriate math and English courses, JBU needs to review a standardized test score. If you took the ACT, SAT or CLT, you may submit your score to satisfy this academic requirement without any effect on your admission decision or financial aid offer.

If you did not take the ACT, SAT or CLT, JBU will require you to take placement tests in English and math.

Complete the Pre-Registration form on Eaglenet

February–August

Submission of the Pre-Registration form is required before you will be permitted to register for classes.
Complete the enrollment process
Complete financial aid tasks and forms

Depending on your financial aid offer, you may have several tasks to complete after accepting your aid. These tasks may include:

Please monitor your applicant portal, email and Eaglenet notifications for notifications about tasks you need to complete.

Submit immunization records and health forms

May–August

JBU requires incoming students to upload or complete the following health documents:

Immunization records
Health History form
Signed Permission to Treat and HIPAA forms

JBU prefers to receive these documents and forms via a tool called Medicat available on Eaglenet. Learn more about immunization requirements.

Sign up for a move-in appointment (if living on campus)

July–August

You will be prompted in your applicant portal to schedule a move-in appointment once they become available. You are required to schedule an appointment if you are a residential student unless you are participating in International/MK orientation or you are arriving to campus early for athletics.

Attend Orientation

August

Equal parts fun and informative, Orientation will set you up for a successful transition to JBU. Orientation attendance is required for new students.

International and MK students will arrive early for an additional orientation that will help them adjust to life in U.S.

Make payment arrangements

If you have a balance due for the semester, you may choose to pay the balance in full or begin a payment plan.
)}}