Campus Store
Operated by Slingshot, the JBU campus store provides textbooks, course materials, clothing and other apparel, gifts, supplies and fan gear in both the physical store and online. The on-campus store is located in Walker Student Center and is open Monday-Friday 9 a.m. - 5 p.m. The store is closed Saturday and Sunday except for special event weekends.
Campus Store Website
Textbook Ordering Information
Phone: 479-524-7195
Email: bookstore@jbu.edu
Sending & Receiving Mail
Located inside the campus store, the mailroom offers campus mail delivery, mail pickup, postage stamp sales and shipping via USPS and UPS.
Phone: 479-524-7195
Email: postoffice@jbu.edu
Mailing Address for Students
First Name, Last Name and/or Nicknames
Mail ID*
Walker Student Center
2000 W. University St.
Siloam Springs, AR 72761
*Students can find their Mail ID by logging in to Eaglenet and looking at their "JBU User Profile" in their Dashboard. Using your Mail ID helps ensure your mail gets to you in a timely manner. You'll receive an email notification when your mail is ready for pickup.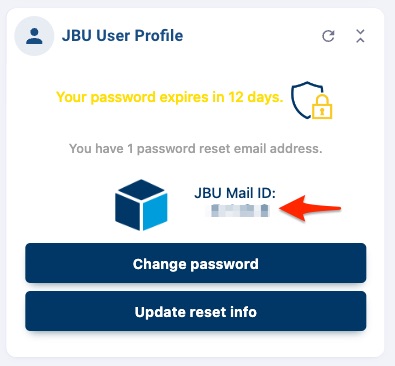 Mail Forwarding
Graduating or departing students can change their forwarding address by filling out the required form on Eaglenet.
)}}