Commuter Places and Spaces
Engage with your community
The Commuter Lounge, conveniently located #231 Upper Level Walker Student Center, is a great place for commuters to relax, eat, study and fellowship.
Commuter Lounge Hours:
Mon-Fri: 6 a.m.–10 p.m.
Sat: 9 a.m. – 10 p.m.
Sun: 12 p.m. – 10 p.m.
Amenities: Lounge area, large group table, small group table, individual study desks, fridge/freezer, microwave, Keurig, lockers, device charging station, etc.
Lockers: These are a great way to keep your books and things in a centralized place on campus so you can navigate your daily schedule without having to carry everything with you. Lockers are available first-come, first-served. Just put your own lock on it for the day or the semester.
Charging Station: Charge your devices while you study, relax or eat in the Commuter Lounge. Remember, don't leave your devices behind.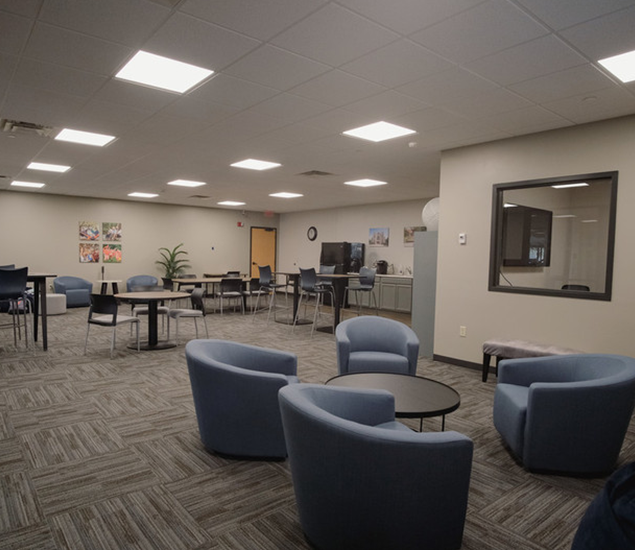 Other spaces on campus
JBU's beautiful campus offers a large array of areas to study and hang out for anyone living off-campus. Many of these spots not only provide a space for rest, relaxation and contemplation, but others allow for many opportunities for students to engage in each other's company and study together. There are a few select sections on campus dedicated solely to our commuters so that off-campus students have their needs met for any occasion.
Walker Student Center


Located in the heart of campus, Walker Student Center (WSC) is a great place to study or just hang out. There are loads of other students here, lots of tables, and multiple food options nearby. WSC also is home to the commuter lounge.

LRC Lobby


The Learning Resource Center (LRC) lobby is a nice quiet place to get stuff done. Located right outside the library, the LRC is a good place to work on group projects or homework between classes. The LRC lobby has tables, couches, and vending machines; it is also conveniently located near the library and Media Lab.

Library


What better place to study than a library? The JBU library is a peaceful place to get your work done. There are plenty of desks, study centers, and study rooms so you can find a place to get to work. Bonus: the librarians are incredibly friendly and helpful and have even been known to brew coffee on special occasions.

Academic Buildings


There are great study and hangout spaces in the academic buildings throughout campus. We encourage you to explore these places to study, relax and fellowship. Commuters are encouraged to spend time in the academic spaces tied to their major or explore new spaces and buildings to connect with students outside their major. Explore artwork, artifacts and great people in these spaces.

Outside


Take advantage of the many beautiful days at JBU by spending time outdoors. Take advantage of the numerous hammocks and benches around campus, relax by the Cathedral Fountain, catch a vista of campus from the Walker Student Center balconies equipped with tables and chairs or enjoy the Sager Creek trail throughout campus.

Downtown


Walk, bike, board, blade or drive to downtown Siloam Springs where you'll find quaint shops, coffee shops, restaurants, beautiful parks along Sager Creek and more!
Parking
JBU's campus is designed to have parking throughout campus. You're only a short distance away from your destination(s) from any parking spot on campus. Be mindful of high student traffic time (ie: chapel) and plan where you will park.
To park a vehicle on campus, you must register it with Campus Safety at the beginning of the year. Then you will receive a sticker that allows you to park in specified lots for day students. Visit the Vehicle Registration page on Eaglenet for more details about registering your vehicle.
COMMUTER BONUS: There is a special Commuter-of-the-Month parking spot near the Cathedral. There will be a random drawing for the spot each month at our commuter event.
For parking instructions and map, click here.
The future you starts at JBU.
Equip yourself for a successful career and a life of purpose.
)}}