International Admissions
Reside outside the U.S.?
JBU admits international students who meet the general admission criteria, hold the equivalent of a bachelor's degree from an accredited or recognized university, and have demonstrated proficiency in English.
International Admission Requirements
Applicants from non-English speaking countries take the Test of English as a Foreign Language (TOEFL) administered by the Educational Testing Service at the nearest examination center or the International English Language Testing System (IELTS) test. The minimum score for admission is 80 or higher on the web-based TOEFL exam or 6.5 or higher on the IELTS exam.
International applicants must do the following:
Submit a completed graduate student application. The application includes a 200-word essay regarding the applicant's professional plans and reasons for seeking acceptance into the program.
Provide an official transcript from the college awarding the undergraduate degree. Provide official transcripts of graduate coursework completed and/or degrees earned at any other institution, if applicable. Transcripts must be mailed by the college or university directly to the Graduate Admissions Office at John Brown University. For transcripts in languages other than English, please use SpanTran to send your transcript to JBU. SpanTran will translate and evaluate your transcript for a charge of around $120-150 USD. Get started with JBU's custom SpanTran request form.
Submit graduate recommendation forms from three persons who are not related to the applicant but are familiar with the applicant's character and scholarship.
International students whose undergraduate degree is not from a U.S.

institution accredited by accreditation bodies recognized by the Council for Higher Education Accreditation (CHEA) and the U.S. Department of Education

must take a GRE entrance exam and achieve the required minimum scores for entrance into the Graduate School.
Provide immunization records including date of measles/rubella vaccination, if the student plans to be enrolled for 12 or more hours during a semester, and proof of U.S. health insurance.
Submit official TOEFL score or IELTS score. Must receive an 80 or higher on the TOEFL internet-based test; 6.5 or higher on IELTS exam.
Provide official documents showing the ability to pay college costs or an Affidavit of Support (United States Citizenship and Immigration Services Form I-134, available through the International Programs office) completed by a U.S. sponsor.
Submit a deposit covering the cost of tuition for one year. The deposit is 100% refundable if the student does not enroll.
Provide additional information or participate in an admission interview if requested by the department head or dean.
The International Programs Office will issue an Immigration Form I-20. This allows the student to apply for the F-1 student visa at an American Embassy.
NOTE: Student visas are only available to qualified students enrolling in one of the following graduate programs by location:
At all locations:
In Northwest Arkansas:
Immunization Requirements
The Arkansas Department of Health requires all graduate students to submit proof of having received one dose of the MMR vaccination. There are four types of acceptable records showing the date the MMR was received: 1) a doctor's record signed by a physician; 2) school immunization records; 3) military immunization records; or 4) a record from the state's health department. Documentation needs to be received within thirty days after acceptance into a graduate program.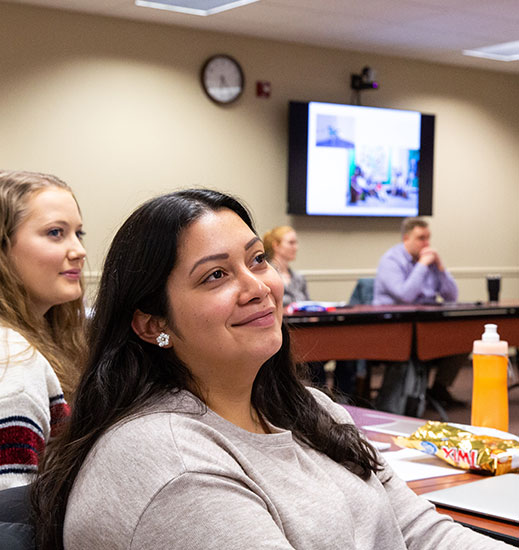 Nondiscriminatory Statement
John Brown University admits persons to its programs and activities without regard to race, color, national or ethnic origin, or gender. The university does not discriminate based on race, color, national or ethnic origin, physical or mental disability, or gender in the administration of education policies, admission policies, scholarship and loan programs, athletics, and other school-sponsored programs.