"The earth is the LORD'S, and all it contains, the world, and those who dwell in it." - Ps. 24:1
In an effort to become more environmentally healthy and economically conservative, John Brown University is committed to being a sustainable institution, by reducing the volume of usable energy and used material.
JBU also believes that reducing JBU's carbon footprint and using resources well are just a few ways that JBU can be stewards of God's Kingdom. Because of that deeply held belief, JBU and generous donors have contributed over $10 million to sustainability projects on campus over the last 15 years.
Quick Facts
Since 2016, JBU realizes over $750,000 in savings each year due to sustainability initiatives, contributing to our efforts to keep tuition costs down.
Since 2000, the university has increased by a total of 327,007 square feet but has decreased its electric/gas usage by $0.23/per square foot
In 2015, JBU achieved Tree Campus USA recognition by the Arbor Day Foundation for its commitment to effective urban forest management.
For more information on JBU's sustainability efforts, contact Steve Brankle, director of facilities services and sustainability at sbrankle@jbu.edu.
In 2012 JBU has become the first and only zero-landfill campus in Arkansas.
45% of JBU's waste is recycled, and the rest is compacted and incinerated.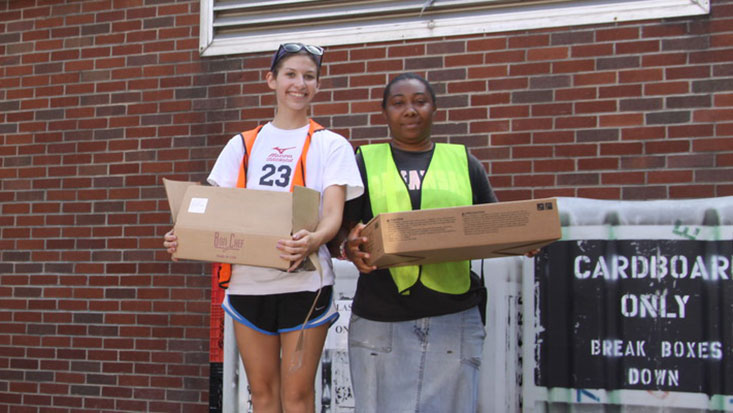 Hydration Stations
JBU's hydration stations are located in a variety of locations on campus with bottle fillers in addition to bubblers that have taken the place of traditional water fountains.
Individual Recycle Bins
JBU removed all the dumpsters on campus and provided individual recycling bins and trash cans to each dorm room, classroom, common area, office, and meeting room. JBU recycles almost 100 percent of recyclable material from offices on campus.
Incineration & Compaction
Non-food items are incinerated in a power plant that reduces no harmful emissions into the environment. JBU compacts non-recyclable material on campus.
Cafeteria Waste
Cafeteria waste is taken to the Gentry Safari Zoo in Gentry, Arkansas. Kitchen grease is converted to biodiesel and used to power lawnmowers.
Move-Out Dumpsters
During move-out days on campus, instead of having students dump unwanted items in a dumpster, workers from the Salvation Army come and take away items that can be reused. Reducing the use of dumpsters saves the university over $60,000 annually.
LED Interior Lighting
At JBU 30% of building interior lighting is LED. In the last 3 years, 100 percent of new construction projects (Mayfield Residence Hall, Peer-Andrus Studio and Project Barn and Health Education Building) are LED. Townhomes are 98%; Murray Sells Gym are 95%; Hutcheson Hall are 80%; and Walton Lifetime Health Complex are 85%. Balzer Technology Center is LEED certified. Outdoor lighting is 100% LED.
White Roofs on Buildings
White roofs save 10-40% on energy costs by reflecting heat and utilizing less air conditioning. The following buildings have white roofs: BPAC, BTC, HEB, SGH, LRC, J. Alvin, Windgate Visual Arts (both), WSC and Murray Sells Gym.
Air Conditioning
JBU has removed inefficient air-cooled chillers in all buildings and installed high-efficiency gas boilers in five buildings — Balzer Technology Center, Mabee/Chapman, Health Education Building, Bill George Arena and Mayfield Residence Hall.
Fleet Vehicles
By purchasing hybrid vehicles, JBU's gas mileage of university cars has increased by 37 percent in the last 10 years.
)}}