JBU Announces Opening of The Schmieding Foundation Commuter Student Lounge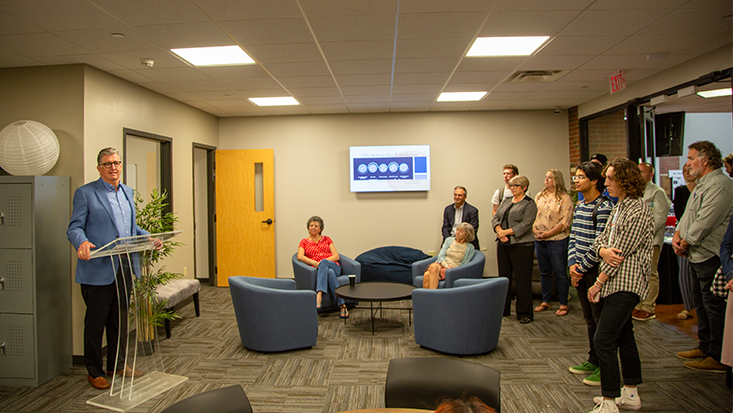 SILOAM SPRINGS, Arkansas (Sept. 30, 2022) – On Thursday, Sept. 22, John Brown University held a dedication for The Schmieding Foundation Commuter Student Lounge inside Walker Student Center.
The dedication featured presentations from the Coordinator of Student Success Rob Rostoni, former Coordinator for Commuter Life Yamilet Lopez, current Coordinator for Commuter Life Maribel Santillan, Vice President for University Advancement Jim Krall and a closing prayer by the Vice President of Student Development Steve Beers.
"The commuter lounge is a wonderful space for our current, and future, commuters to relax, fellowship, study and have a home away from home," Rostoni said. "We desire our commuters to thrive at JBU, and this space is an important part of our overall Commuter Life initiatives"
The space, made possible in part by The Schmieding Foundation, is available to the 405 commuters that attend JBU. The new space includes new furniture, a large group table, a charging station, lockers for students and a full kitchen area.
To learn more about the lounge and commuter life on campus, please visit jbu.edu/student-life/commuters/.
John Brown University is a leading private Christian university, training students to honor God and serve others since 1919. Arkansas' top-ranked university (The Wall Street Journal) and top-ranked regional university (U.S. News), JBU enrolls more than 2,200 students from 36 states and 38 countries in its traditional undergraduate, graduate, online and concurrent education programs. JBU offers 50 undergraduate majors, with top programs including nursing, psychology, kinesiology, engineering, construction management, family and human services, and graphic design. Eighteen graduate programs are available in business, counseling, cybersecurity, education and higher education.
##30##