JBU Announces Spring 2022 Traditional Undergraduate Dean's List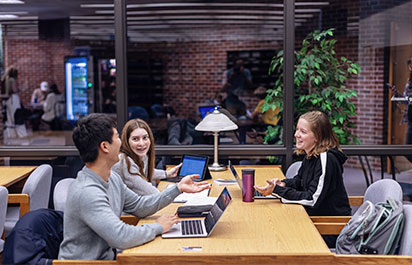 The following John Brown University traditional undergraduate students were named to the Dean's List for their academic achievement during the Spring 2022 semester. The Dean's list recognizes the achievement of students semester by semester and is reserved for students who have achieved a GPA of 3.4-3.79 for this academic term. Students who have chosen to be FERPA-secure may not appear on the list below.
Emily Acker
Roberto Aguero
Wilber Aguilar Orellana
Blake Albright
Avery Alexander
Leah Anderson
Rachel Arant
Kristin Arft
Elijah Arnold
Alec Bailiff
Rachel Ball
Jessica Balraj
Janice Balraj
Jessica Barber
Melody Baronti
Cassie Bartlett
Liam Baumgardner
Emma Beagle
Elyssa Beckner
David Belvardi
Isabella Bennett
Caroline Best
Zachary Beyer
Grace Bishop
Luke Blackketter
Emily Blackwell
Joshua Blomgren
Elijah Boggan
Nazaria Bol Caal
Elijah Bolyard
Jonny Bontrager
Carlos Borjes
Elise Bosma
Julia Bottoms
Matthew Bowden
Cady Bowerman
Hailey Bridges
Faith Brown
Eloise Brown
Alexis Brown
John Brown
Emma Brown
Allison Brummer
Aaron Bruns
Sara Buchanan
Cole Buckingham
Maggie Buck-Mallow
Aaliyah Buckner
Ashley Burch
Christopher Burchfiel
Christopher Burgess
Elizabeth Bushlack
Anna Campbell
Sam Carles
Holly Carson
Samantha Casas
Russell Cash
Anna Chan
Michal Chaple
Francisco Chavez
Caylee Ciesla
Carlos Cifuentes Castano
Nathan Clark
Cole Clavey
Makenna Cofer
Alexander Cole
Brady Collard
Michael Collins
Angelina Corzine
Joshua Cottrell
Meghan Cox
Emma Cox
Brooke Cox
Johnathan Craddock
Grayson Crawford
Michael Daubenmier
Joseph Deitzer
Emma DeSanti
Lauren Dewitte
Ester Diaz
Hope Dmyterko
Nathan Duchene
Sarah Duncan
Mary Dunston
Chloe Eisenmann
Callie Ertel
Leah Etchison
Caroline Flannagan
Grace Flaugh
Diego Flores
Lilly Flowers
Harrison Francis
Marlon Gaitan
Maria Galindo
Kristin George
Aniyah Gibbs
Elias Giessmann
Adam Goff
Jessica Goldman
Daniel Grosselin
Abram Gruen
Juan Guevara
Payton Guiot
Mary Gutilla
Alexis Guzman
Jake Hagood
Nathan Hahn
Ryleigh Hale
Laney Hawk
Nathan Haworth
Dianne Hendrix
Jeremy Hidalgo
Caroline Hillock
Eden Hinton
Hannah Holden
Megan Holloway
Triniti Horner
Louisa House
Maggie Hubbard
Tobias Huisjen
Joshua Hutchins
Andrew Isaac
Jacob Ivy
Sam Jackson
Jaydon Jarnagan
Nazaria Jimenez Salgado
Anna Johnson
Lucy Jones
Madison Juarez
Samuel Keele
Ryan Kees
Ye Hyouk Kim
Nattilie Kirby
Jessica Koellner
Sarah Laaker
Sarah Ladehoff
Elicia Lampton
Madison Lanker
Elise Lanker
Hannah Lawrence
Starla Lawrence
Tylar Lee
Sean Lee

Olivia Lee
Daehee Lee
Lila Lemus
Keren Licona
Grace Lindquist
Nicholas Loper
Laina Ludwig
Gustavo Maida
Rachel Mann
Alex Marsh
Brody Martin
Oak Martin
Jake Martinez
Austin Matney
Aaliyah Maurice
Malaine Maxfield
Olivia McCafferty
Kolby McCombs
James McDougal
Caeleb McKee
Callie Meisinger
Aubrey Mendez
Damaris Merino Zelaya
Jace Merritt
Ashton Michael
Harrison Milhem
Julie Milligan
Grace Mitchell
Kaelyn Mole
Carson Moon
William Moon
Daya Moore
Sterling Morphis
Caleb Morris
Luke Moyes
Lyndie Mullins
Erin Mullins
Ami Murray
Elli Nauman
Kelli Nelson
William Newton
Thi Hanh Mai Nguyen
Ethan Noden
Stephen Norwood
Brylie Parker
Samuel Patterson
Madelyn Peddicord
Garrett Pendergraft
Laniese Penner
Emily Penner
Idania Peralta
Emily Peters
Julianne Petersen
Jonathan Peterson
Orry Phillips
Regan Phillips
Ridley Plant
William Pollard
Ashby Portillo
Joshua Priestner
Alejandro Ramirez
Peter Ray
Taylor Read
Macie Redick
Emily Reutter
Riley Rhodes
Jace Richardson
Kobe Robinson
Natalie Rogers
David Rohlfs
Isabella Rush
Corban Samoff
Jair Sanchez
Mariandrea Sanchez Garay
Hannah Sawyer
Olivia Scates
Sophia Schwarz
Pamela Seiler
Logan Self
Katherine Shaneck
Analise Shanfelt
Braxton Shook
Seoyoung Sihn
Mackenzie Silkey
Cole Sinclair
Josie Sisk
Audrey Smith
Natalie Smith
Karlee Snow
Kacey Soderquist
Nydia Soriano
Elsie Sorrell
Sealie Spann
William Sparks
Joel Spence
Abrielle Sprague
Maxwell Steele
Ava Stepanian
Tarrah Stephens
Cameron Stewart
Fiona Stoll
Josiah Stone
Briley Taylor
Bethany Taylor
Kaitlyn Terry
Bethany Terry
Kaaren Theobald
John Thomas
Rachel Thompson
Nathaniel Thompson
Helen Travis
Jacob Turner
Emma Turner
Rocio Abigail Tzunun
Matej Urbanija
Tai Urbina
Daniela Vasquez
Owen Veer
Edwin Vega Zamora
Wesley Verduin
William Verduin
Myah Veselka
Daelyn Vonriesen
Jacob Wakefield
Zoe Ward
Brittney Ware
Caitlyn Watson
Annalysa Watts
Melissa Weaver
Mackenzie Weiss
Joshua Williams
Ashleigh Williams
Tobias Wilson
Aaron Wingfield
Joshua Womack
David Woodring
Makayla Woods
Brooklyn Woods
Chloe Woodson
Olivia Wyatt
Sarah Yoon
Jensen Younkman
Brennan Zaleski
To see the President's list, click here.