JBU Announces Opening of The Togami Center for Innovation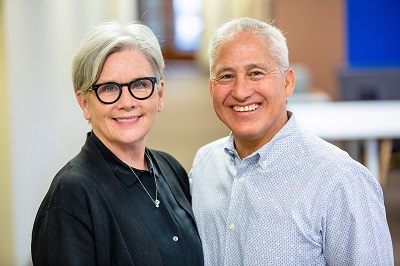 SILOAM SPRINGS, Arkansas (April 14, 2022) – On Tuesday, April 13, John Brown University's Soderquist College of Business revealed The Togami Center for Innovation to the public. The center, named after longtime JBU professor Kai Togami and his wife Wendy Soderquist-Togami, is now open to students on the JBU campus.
The space features brand-new movable whiteboards, a focus group room and spaces for business students to conduct interviews with potential clients. The center, while open to all students, focuses on giving business students an area for entrepreneurship and innovation.
The dedication featured presentations from Togami and Soderquist-Togami; Ryan Ladner, dean of the Soderquist College of Business; Eva Fast, assistant professor of entrepreneurship and marketing; and some former students who shared stories and experiences from their time at JBU.
"The benefit of having a space where the whole campus can come and work together is really special," Togami said. "Whether it's ENACTUS or the business students I've seen grow up giving back, that's the power when we stop thinking about ourselves."
Attendants then toured the inside of The Togami Center for Innovation on the second floor of the Soderquist Business Center.
"In my time at JBU I've followed a very simple equation," Soderquist-Togami said. "If I can get JBU students to think critically and I can get them in a room together, I can throw any problem at them and they will find a solution, and that's what we hope will happen here."
John Brown University is a leading private Christian university, training students to honor God and serve others since 1919. Arkansas' top-ranked university (The Wall Street Journal) and top-ranked regional university (U.S. News), JBU enrolls more than 2,200 students from 37 states and 48 countries in its traditional undergraduate, graduate, online and concurrent education programs. JBU offers more than 40 undergraduate majors, with top programs including nursing, psychology, kinesiology, engineering, biology, family and human services, and graphic design. Eighteen graduate programs are available in business, counseling, cybersecurity, education and higher education.
###