JBU Announces Fall 2021 Traditional Undergraduate President's List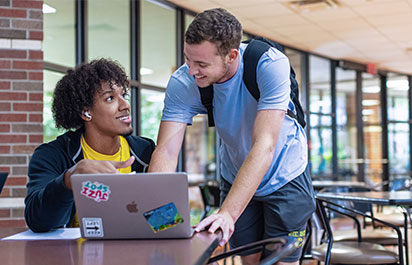 The following John Brown University traditional undergraduate students were named to the President's List for their academic achievement during the Fall 2021 semester. The President's list recognizes the achievement of students semester by semester and is reserved for students who have achieved a GPA of 3.8 or above for this academic term.
Emily Acker
Roberto Aguero
Maria Aguilar
Madison Altman
Jenna Auel
Kathryn Austin
Caitlyn Aversman
Aurora Balam
Brooke Baldwin
Rachel Ball
Jerica Barkley
Delaney Barnes
Melody Baronti
Yarelis Batista Atencio
Sadie Baumann
Braden Bayless
Kyle Beardsley
Eric Beason
Elyssa Beckner
Matthew Bell
Mekenzie Beller
Macy Bennett
Hannah Benninghoven
Benjamin Bishop
Emily Blackwell
Cole Blagg
Adeline Block
Madison Boehmer
Elijah Boggan
Margaret Boles
Madison Boosey
Peyton Boosey
Abigail Borcherding
Brially Borden
Aubrey Bouvier
Britain Bowles
Alexis Brown
Cazia Brown
Joanna Brown
Justin Brown
Samara Brown
Elizabeth Brownell
Rebecca Brownell
Colton Bruza
Seth Bucher
Elizabeth Buckmaster
Madison Buldra
Christopher Burgess
Sophia Burkett
Bethany Burks
Lydia Burrell
Anna Butler
Chapman Campbell
Joel Carlson
Anna Carr
Isabel Carrion
Abigayle Carte
Anna Chan
Elizabeth Chaves
Francisco Chavez
Maria Chinchilla
Benjamin Choate
Kaden Clark
Kezziah Clark
Abrielle Clausing
Sarah Clay
Courtney Cleverdon
Lauren Cloud
Morgen Cloud
Katherine Cochran
James Coleman
Michael Collins
Anne Cone
Caleb Cooper
Joshua Cottrell
Meghan Cox
Camryn Cubbage
Dru Darby
Michael Daubenmier
Christopher Davis
Emma Devries
Lauren Dewitte
Hudson Dick
Julia Dinwiddie
McKinley Dirks
Emily Dison
Tessa Doerstling
Brenna Dolloff
Mary Donaldson
Meredith Duffield
Johnny Dunfee
Megan Dykstra
Avery Edwards
Laura Eiberger
Chloe Eisenmann
Gabrielle Eitutis
Linton Ellis
Meghan Ellis
Aubrey Engel
Brandon Engel
Shantee Enitencio Quinn
Brianna Fentress
Loraine Ferrin Diaz
Annika Finley
Hannah Fisk
Diego Flores
Micah Fouts
Sydney Frager
Connor Frantz
Jared Frickenstein
Daniel Friesen
Cody Funk
Chelsea Funkhouser
Michael Gabbert
Natalie Geesaman
Kristin George
Asia Gibson
Elias Giessmann
Haley Gladden
Emily Gomez
Hannah Goughnour
Isabella Graber
Andrew Graham
Tessa Greathouse
Sam Green
Megan Griffin
Sara Gunn
Megan Guthrie
Abigail Haak
Parker Hale
Caleb Hall
Karis Hall
Alexander Hamilton
Ethan Hansen
Valerie Harder
Sadie Hargrove
Madison Hatfield
Christopher Hatton
Joanna Hayes
Anna Heil
Dianne Hendrix
Chloe Herndon
Ashleigh Hewett
Daniel Hicks
Jenna Hinerman
Sydney Hodge
John Honeycutt
Julia Hornok
Louisa House
Easton Hubbard
Maggie Hubbard
Tobias Huisjen
Camden Hull
Joshua Human
Ellie Irving
Andrew Isaac
Andrew Janzen
Alicia Jargo
Mariah Jenkins
Anna Johnson
Katelyn Johnson
Lucy Jones
Zipporah Jones
Madison Juarez
Kristina Kay
Robert Keys
Lucy Kieffer



Kylie Kilfoy
Yun Kyung Kim
Katelyn Kingcade
Nattilie Kirby
Connor Klaassen
Cassandra Koellner
Katherine Korasick
Madison Kunze
Sarah Laaker
Marian Lancon
Jacob Landis
Elise Lanker
Abigail Lawler
Sloane Lawson
Daehee Lee
Sean Lee
Keaton Leinbach
Abigail Lemons
Grace Lindquist
Bethany Long
Alair Love
Morgan Lundeen
Tyler Machost
Laura Magallon
Jacoby Magness
Ansley Mapstone
Jacob Mapstone
Alayna Marmon
Audrey Martin
Jordan Martin
Lincoln Martin
Jake Martinez
Natalie Maruschak
Holly Mast
Julia Mattis
Hannah Mays
Hannah McAdams
Courtney McCollum
Koriah McCroskey
Tyler McGee
Callie Meisinger
Jace Merritt
Ashton Michael
Kristen Miranda
Andrew Morton
Ryan Moulton
Sophie Mumba
Jaden Muse
Hope Nast
Ellie Nelson
Jonah Newsom
Jesse Nielsen
Joanna Norwood
Rachel Norwood
Isabelle Nystrom
Rachael Oatman
Chaney Odden
Olivia Pace
Francell Palma Aguilar
Sungmin Park
Elizabeth Parrish
Lauren Pearl
Allika Pearson
Garrett Pendergraft
Ana Penner
Emily Penner
Ira Perrier
Tristen Perry
Josiah Petak
Emily Peters
Julianne Petersen
Micah Peterson
Samuel Phipps
Grace Powell
Micaela Proano
Chloe Pruett
Jonathan Quarles
Lauren Quiring
Andrew Ragsdale
Kory Rash
Macie Redick
Kaden Reed
Emily Reutter
Emily Rhodes
Taryn Ridley
Emma Riggs
Jacob Ritz
Hannah Rose
Sarah Rose
Rachel Saferite
Shea Sandefur
Hannah Sanderford
Emily Sanders
Hannah Sawyer
Molly Schatzman
John Schemmer
Collin Schmidt
Michael Schmidt
Caleb Schwing
Leah Scott
Lindsay Scott
Pamela Seiler
Blake Selby
Madelyn Shasteen
Abigail Shaw
Kassy Shelby
Claire Sheppard
Elise Shinn
Tyler Simpson
Bianca Singelstad
Kelsey Skorup
Jayden Smith
Madelyn Smith
Sarah Smith
Sidney Smith
Sydney Smith
Kimberly Solis
Elsie Sorrell
Joel Spence
Sarah Spencer
Deveney Stadel
Aidan Stinson
Lainee Stiver
Luke Stoeltzing
Anna Stoesz
Ashley Sudmann
Kaleigh Sumpter
Elizabeth Swan
Lisa Thomason
Rachel Thompson
Rosita Tirado
Luke Travis
Caryl Trimble
Karis Trippe
Emerson Turner
Rocio Abigail Tzunun
Abigail Underwood
William Vail
Lesly Valenzuela
Alisa Van Eerden
Lisa Vanoverberghe
Malia Veer
Vivian Velasquez
Kaitlyn Voss
Lauren Walter
Anna Ward
Tara Warden
Jule Warner
Caitlyn Watson
Stanton Weaver
Jacob Weber
Margaret Welsh
Ethan Wessman
Lauren West
Sarah West
Megan Whitmore
Margaret Wilkerson
Matthew Will
Joshua Williams
Julia Wilson
Aaron Wingfield
Korey Winter
Makayla Woods
Sarah Yoon
Jensen Younkman
Anna Zapolska
Ramon Zeledon
To see the Dean's List, click here.